Allegion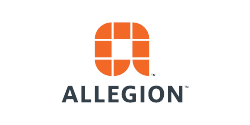 We believe optimizing your facility's physical environment can have a direct link to improved Patient Outcomes, Patient Satisfaction, Staff Satisfaction and Productivity, and Financial Performance.
Find out more by exploring the Solutions we offer and the Resources that will educate and inform you.
Solutions by Openings
Healthcare Security and Safety Solutions by Opening have been developed using the expertise of the Allegion Specification team and show the best-in-class solutions for specific doors within the healthcare environment.
Patient Room Doors
Patient room doors provide privacy and safety for a patient during a hospital stay. They must also be easily accessible for hospital staff as they carry medical supplies, push gurneys or carts, or quickly move across the room.
Featuring: Glynn-Johnson push/pull locks; Ives swing clear hinges
Anti-ligature Openings
Behavioral health patients that are treated at hospitals and facilities are at high risk for injury or death, even when regular patient monitoring checks are in place. Openings in these areas have special requirements and must minimize the risk of self-harm while maintaining a balance of patient security and safety.
Featuring: Schlage L Series anti-ligature mortise locks; Ives hospital tip door hinges; LCN concealed door closers
Cross-corridor Openings
Although this opening's main purpose is to control the spread of fire and/or smoke while keeping patients and staff safe in emergencies, it can also be used to control access to secure areas of the building. By using automated solutions, these openings deliver quiet, hands-free, automated operation of these high-traffic doors.
Featuring: Von Duprin QEL (Quiet Electric Latch) exit devices; LCN auto operators; aptiQ and aptiQmobile readers and credentials; Von Duprin CVC system (Concealed Vertical Cable)
Low Profile Cross-corridor Openings
These doors are subject to more use and abuse than almost any other openings in a medical facility. By using heavy-duty solutions that are low profile and don't inhibit traffic flow, these openings will be able to operate correctly under most any circumstances.
Featuring: Von Duprin INPACT exit devices; Steelcraft hollow metal doors; LCN hold open magnets
Security Sensitive Areas – Offline Doors
Many areas in healthcare facilities require a higher level of security and could benefit from the security, efficiency and convenience of electronic access control, but don't require the complexity of a fully networked system.
Featuring: Schlage electronic locks; LCN door closers
Interested in ALLEGION's Healthcare Security Solutions?
Craftmaster Hardware is an expert supplier of ALLEGION security products. We can deliver on any one of their sophisticated and high quality solutions. Need a consult? Craftmaster will spend the time necessary to specify the right product for the right application for your specific need. We can also facilitate a trusted ALLEGION security advisor and help you with securing your entire healthcare facility.
Call 800-221-3212 and discuss security solutions with a Craftmaster expert on:
Anti-Ligature Openings
Cross-corridor Openings
Low Profile Cross-corridor Openings
Security Sensitive Areas
Security Sensitive Areas – Offline Doors
Security Sensitive Areas – Networked Doors
Additional Resources/Downloads

Creating Safe Environments

Anti-Ligature Openings

Joachim-Plattin Smart Credentials

Keeping Quiet

Ronald McDonald House

Rush University