Corbin Russwin - Locks, Key Systems, Exit Devices, Door Closers
Since the early 1800s, Corbin Russwin has produced high-quality, innovative door hardware for commercial and institutional facilities. Corbin Russwin, an ASSA ABLOY Group brand, remains a leader in locks, key systems, exit devices, door closers, decorative hardware and electronic access control.
We carry cylindrical locks and cylinders, mortise locks, deadbolts, door closers, exit devices, key blanks, and anti-ligature hardware. We also offer parts, accessories and kits, including bushings, roll pins, spring clips, lever return springs, spindles, key plate packages, strikes, lug nut assemblies, screws, levers, latches, emergency release tools, stops, latchbolts, trims, cylinder slides, cam screws, mortise cylinder cams, and pin kits, as well as tools like thimble wrenches and key decoders (key gauges). Locks are available with a variety of finishes, including wrought brass, bronze, and stainless steel (depending on the product).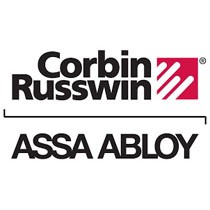 Frequently Asked Questions:
Q: What is Corbin Russwin?
Corbin Russwin is a leading manufacturer of high-quality commercial-grade locksets, door hardware, and access control solutions. The company began manufacturing plate locks in 1839 and has continued to serve the commercial and industrial sectors ever since.
Q: What is the difference between a Mortise Lock and a Cylindrical Lock?
A mortise lock is installed into a pocket (or mortise) in the edge of a door, while a cylindrical lock is installed through a hole in the door. These are two of the types of locks available in commercial door hardware.
Q: Can Corbin Russwin locksets be rekeyed?
Yes, Corbin Russwin locksets can be rekeyed by a locksmith or trained security professional.
Q: What types of products does Corbin Russwin manufacture?
Corbin Russwin manufactures a wide range of security hardware products including locksets, door closers, exit devices, key systems, and electronic access control systems.
Q: Are Corbin Russwin products durable?
Yes, Corbin Russwin products are known for their durability. They are built to withstand heavy use and are constructed from high-quality materials to provide long-lasting durability.
Q: Are Corbin Russwin products secure?
Yes, Corbin Russwin products offer advanced security features which provide reliable protection against break-ins and forced entry.
Q: What certifications do Corbin Russwin products hold?
Many Corbin Russwin products achieve ANSI/BHMA Grade 1 or Grade 2 certification for strength, durability, and security. They also hold UL certifications, which means the products have been tested to the industry's required safety standards.
Q: Are Corbin Russwin products ADA compliant?
Yes, complying to ADA standards is an important part of Corbin Russwin's product development process.
Q: What types of facilities can benefit from Corbin Russwin products?
Any business or organization that requires reliable and secure access control can benefit from using Corbin Russwin door hardware. This includes office buildings, healthcare facilities, educational systems, and retail stores.
Q: What is the warranty on Corbin Russwin locksets?
Corbin Russwin locksets are backed by a limited warranty of five to seven years, depending on the type of lockset chosen.
If you don't find what you are looking for or need help choosing the right product, please use the live chat button at the bottom of the page. We'll be happy to help you!