TRIMCO Healthy Hardware
Trimco was founded in 1949 in Los Angeles, California. More than 65 years later, we continue to operate as a family-owned and operated, independent business. Trimco has a team of more than 100 dedicated professionals focused on providing a remarkable customer experience. Trimco continues to be a trusted leader in developing products for the most demanding environments. Push/Pull Plates, Grips & Bars Door, Wall & Frame Protection Latching & Locking Accessories & Other Products Healthy Hardware Designer Collections.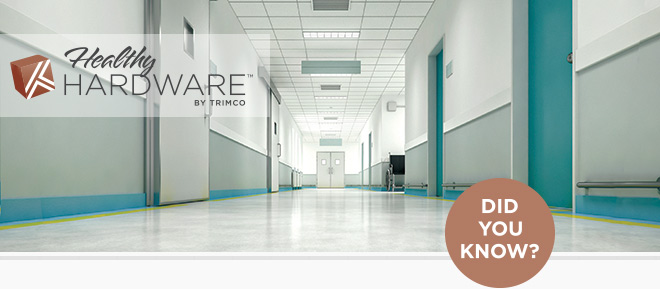 The door handle of a public facility can be touched several thousand times a day. That is thousands of opportunities to transfer bacteria and infectious diseases. In hospitals alone, there are over 103,000 Hospital Acquired Infections (HAIs) reported every year!
Trimco can help minimize infectious bacteria* in your facility through our Healthy Hardware™ portfolio of products made with CuVerro® bactericidal copper alloy surfaces.
Why Use Healthy Hardware
Hospital Acquired Infections (HAI) number over 103,000 cases per year nationally. Combined with home and school acquired infections the total rises to over 2 million every year causing lost work days and absenteeism. The cost of treatment of those occurrences is estimated between $35 and $45 billion dollars annually and is rising. EPA tests conducted using Good Laboratory Practices demonstrate the effectiveness of copper alloys against bacteria* that cause infection. Trimco is a pioneer and innovator in copper door hardware with the Healthy Hardware™ line of door trim and engineered products.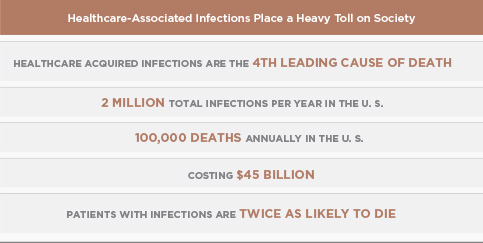 Benefits of using Trimco's Healthy Hardware™:
Kills 99.9% of bacteria in 2 hours.
Not a coating and won't wear off! Will continue to kill bacteria* for the lifetime of the product
Looks like stainless steel to match other hardware products.
Wide range of hardware and touch surfaces available.
Made in the U.S.A.
"Green" product comprised of pre and post-consumer recycled materials.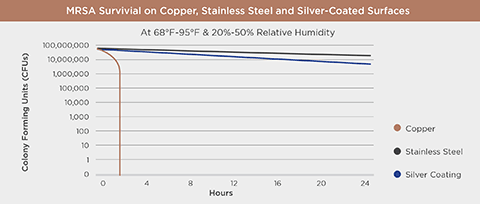 How does copper help Trimco's Healthy Hardware™ work?
Trimco's Healthy Hardware™ products are manufactured from specially formulated copper alloys that are registered by the U. S. Environmental Protection Agency (EPA). When cleaned regularly, these copper alloys have been proven to kill 99.9% of the most virulent bacteria like e-coli, MRSA and Staph*. This is not a coating, but rather an all-natural, solid copper-based alloy that will last for the life of the product.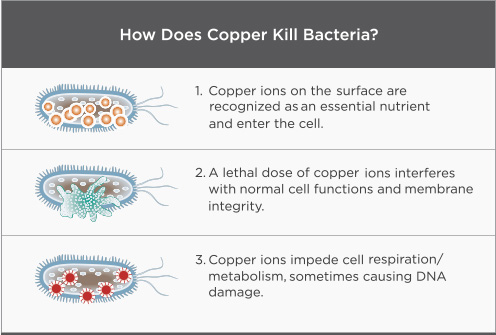 *Laboratory testing shows that, when cleaned regularly, CuVerro surfaces kill greater than 99.9% of the following bacteria within 2 hours of exposure: Methicillin-Resistant Staphylococcus aureus (MRSA), Staphylococcus aureus, Enterobacteraerogenes, Pseudomonas aeruginosa, E. coli O157:H7, and Vancomycin-Resistant Enterococcus faecalis (VRE).
The use of CuVerro® bactericidal copper products is a supplement to and not a substitute for standard infection control practices; users must continue to follow all current infection control practices, including those practices related to cleaning and disinfection of environmental surfaces. This surface has been shown to reduce microbial contamination, but it does not necessarily prevent cross contamination. CuVerro® is a registered trademark of GBC Metals, LLC and is used with permission (TR-0002-1509). See www.CuVerro.com for more details.