Hager - Spring, Plain Bearing, Ball Bearing, and Continuous Hinges
It's been more than 166 years since Charles Hager first started working in a blacksmith shop. And in that timespan, they've grown from forging wheel rims for Conestoga wagons to offering more than 6,000 door hardware products. In 2012, Hager launched a line of electrified products, including electric strikes, keypads, and magnetic locks. Today, the products created by Hager Companies can be found all over the world. And for good reason: they're built to last. Hager continues to expand its line of locks, door controls, and exit devices – all backed by a 167-year legacy of quality, reputation, and excellence.
We carry a selection of standard and heavy duty Hager hinges, including spring hinges, plain bearing hinges, ball bearing hinges, and full surface hinges.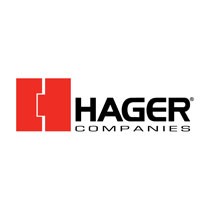 SKU #

HG/780-053HD-83-CLR

SKU #

HG/780-112HD-83-DBA

SKU #

HG/780-112HD-95-CLR

SKU #

HG/780-157HD-83-CLR

SKU #

HG/780-157HD-83-DBA

SKU #

HG/780-210HD-83-CLR

SKU #

HG/780-210HD-83-DBA